Lt. Col. Mervyn Willett Gonin
Colonel Gonin's order of the day 23 May 1945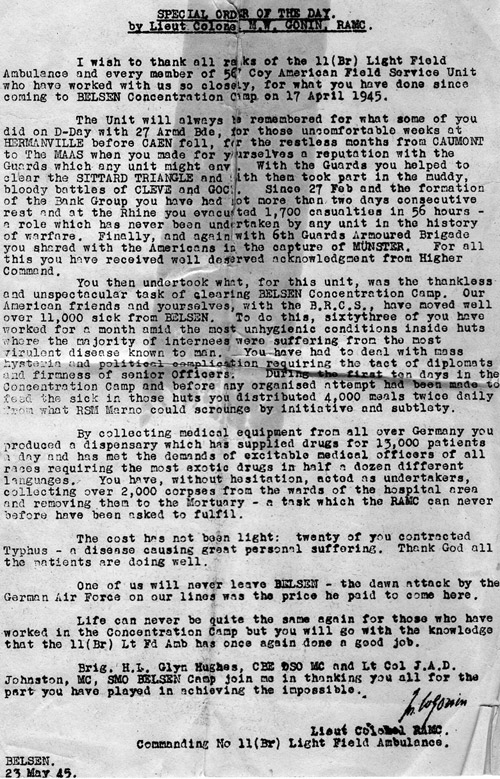 (Many thanks to Mark Liddell for supplying this document)
Partial Transcript..
'The unit will always be remembered for what some of you did on D-Day with 27 Armd Bde. For those uncomfortable weeks at Hermanville before Caen fell. For the restless months from Coumont to Maas, when you made yourselves a reputation with the guards that any unit might envy. With the guards you helped to clear the Sittard Triangle and with them took part in the muddy bloodless battles of Cleave and Goch. Since 27 Feb and the formation of the Bank Group, you have not had more than two days' consecutive rest, and at the Rhine you evacuated 1,700 casualties in 56 hours, a role which has never been undertaken by any unit in the history of warfare. Finally, and again with the 6th Guards Armoured Brigade, you shared with the Americans in the capture of Munster. For all this you have received well-deserved acknowledgement from higher command.
You then undertook what for this unit was the thankless and unspectacular task of clearing Belsen Concentration Camp. Our American friends and yourselves, with the BRCS, have moved over 11,000 sick from Belsen. To do this, 63 of you have worked for a month amid the most unhygienic conditions inside huts where the majority of internees were suffering from the most virulent disease know to man. You have had to deal with mass hysteria and political complication, requiring the tact of diplomats and firmness of senior officers. During the first ten days in the concentration camp, and before an organised attempt had been made to load the sick in those huts, you distributed 4,000 meals, twice daily, from what RSM Marne could scrounge by initiative and subtlety.
By collecting medical equipment from all over Germany, you produced a dispensary, which has supplied drugs for 13,000 patients a day, and has met the demands of exitable [sic] medical officers of all races, requiring the most exotic drugs in half a dozen different languages. You have, without hesitation, acted as undertakers, collecting over 2,000 corpses from the wards of the hospital area and removing them to the mortuary — a task which the RAMC can never before have been asked to fulfil.
The cost has not been light: twenty of you contacted Typhus-A disease, causing great personal suffering. Thank God, all the patients are doing well.
One of us will never leave Belsen — a dawn attack by the German Air Force on our lines was the price he paid to come here.
Life can never be quite the same again for those who have worked in the concentration camp, but you will go with the knowledge that the 11 (BR) LT FD Amb has done a good job.
Brig HI Glyn Hughes, CBE DSO MC, and Lt Col JAD Johnston, MC, SMO, Belsen Camp, join me in thanking you all for the part you have played in achieving the impossible.
Lieut Col MW Gronin RAMC, commanding No. 11 (BR) Light Field Ambulance'
Extract from the diary of Lieutenant Colonel Mervin Willett Gonin DSO
"I can give no adequate description of the Horror Camp in which my men and myself were to spend the next month of our lives. It was just a barren wilderness, as bare as a chicken run. Corpses lay everywhere, some in huge piles, sometimes they lay singly or in pairs where they had fallen.
It took a little time to get used to seeing men women and children collapse as you walked by them and to restrain oneself from going to their assistance. One had to get used early to the idea that the individual just did not count. One knew that five hundred a day were dying and that five hundred a day were going on dying for weeks before anything we could do would have the slightest effect. It was, however, not easy to watch a child choking to death from diphtheria when you knew a tracheotomy and nursing could save it, one saw women drowning in their own vomit because they were too weak to turn over, and men eating worms as they clutched a half loaf of bread purely because they had had to eat worms to live and now could scarcely tell the difference.
Piles of corpses, naked and obscene, with a woman too weak to stand propping herself against them as she cooked the food we had given her over an open fire; men and women crouching down just anywhere in the open relieving themselves of the dysentery which was scouring their bowels, a woman standing stark naked washing herself with some issue soap in water from a tank in which the remains of a child floated.
It was shortly after the British Red Cross arrived, though it may have no connection, that a very large quantity of lipstick arrived. This was not at all what we men wanted, we were screaming for hundreds and thousands of other things and I don't know who asked for lipstick. I wish so much that I could discover who did it, it was the action of genius, sheer unadulterated brilliance. I believe nothing did more for those internees than the lipstick. Women lay in bed with no sheets and no nightie but with scarlet red lips, you saw them wandering about with nothing but a blanket over their shoulders, but with scarlet red lips. I saw a woman dead on the post mortem table and clutched in her hand was a piece of lipstick. At last someone had done something to make them individuals again, they were someone, no longer merely the number tattooed on the arm. At last they could take an interest in their appearance. That lipstick started to give them back their humanity."