Bergen-Belsen (Hohne) Barracks Buildings and Features (85 Images)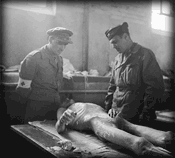 In 1936 construction of the barracks at Bergen-Belsen (now renamed Bergen-Hohne) began in response to Hilters rearmament program. The barracks, along with others at Bad Fallingbostel and Munster, where positioned on the outer edges of a huge training area on the Lüneburger Heide that allowed simultaneous training of up to two divisions.

Bergen-Belsen and the training area were declared operational in 1939. From this point it was used to train soldiers that went on to fight on all fronts.

Due to severe overcrowding of KZ Bergen-Belsen, on the 8th April 1945 the Panzer Training School was handed over by the Wehrmacht to the SS in order to house 15133 prisoners transported from Mittelbau-Dora. This area became Camp 2 of KZ Bergen-Belsen.

As part of the truce agreement of 12th April 1945, Bergen-Belsen Barracks, along with KZ Bergen-Belsen were surrendered to advancing British Troops. Initially the camp was divided up to house and hospitalise prisoners evacuated from KZ Bergen-Belsen and was the scene of an enormous humanitarian effort by the British Army and many aid agencies.

By late 1945 Bergen-Belsen Barracks had been transformed into the largest Displaced Person's (DP) camp in the British Sector and remained so until the last refugee left on 6th September 1950.

Bergen-Hohne is now home to part of the British Army's 7th Armoured Brigade.